This interdisciplinary forum on Testo Junkie: Sex, Drugs, and Biopolitics in the Pharmacopornographic Era, puts author Paul B. Preciado into conversation with clinicians — Kirsten Lentz, Carolyn Stack, and Jamieson Webster, along with moderator Muriel Dimen — to discuss the range of ways Preciado's genre-bending account of gendered embodiment both challenges and expands psychoanalytic accounts of gender, desire, and somatic experience.  And vice versa.  This forum continues a multi-year joint initiative between CSGS and the journal Studies in Gender and Sexuality to promote open-ended exchanges between cultural theory and psychoanalytic theory. Co-sponsored by the NYU Center for the Study of Gender & Sexuality, the NYU Department of Performance Studies, and Studies in Gender and Sexuality.
Click here to listen to audio Part 1
Click here to listen to audio Part 2
Click here to listen to audio Part 3
Click here to read the introduction by Anne Pellegrini, and presentations by Paul B. Preciado, Kirsten Lentz, Carolyn Stack, and Jamieson Webster published in Studies in Gender and Sexuality, Volume 17, No. 1
Click here to purchase "Testo Junkie: Sex, Drugs, and Biopolitics in the Pharmacopornographic Era" published by The Feminist Press in 2013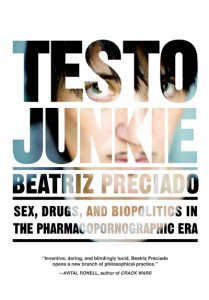 Muriel Dimen, Ph.D. is a psychoanalyst, anthropologist, and writer. Most recently, she edited With Culture in Mind. Her Sexuality, Intimacy, Power received the Goethe Award, Canadian Psychological Association. She practices psychoanalysis in Manhattan.
Dr. Kirsten Lentz is an advanced candidate at New York University's Postdoctoral Program in Psychotherapy and Psychoanalysis. She has a PhD from Brown University in the Department of American Civilization where she studied social theory, feminist and queer theory and film. She studied Clinical Social Work at New York University. She treated patients in the Trauma Program at the Karen Horney Clinic before establishing her private practice in New York City in 2007. She is interested in how questions of social and cultural power bear on the clinical situation and on the possibility of psychological change.
Paul B. Preciado is a philosopher, transfeminist activist and of the leading thinkers in the study of gender and sexual politics. He is Head of Research of the Museum of Contemporary Art of Barcelona (MACBA), Director of the Independent Studies Program (PEI) and Visiting Professor in New York University and Princeton University. An Honors Graduate and Fulbright Fellow, he earned a M.A. in Philosophy and Gender Theory at the New School for Social Research in New York where he studied with Agnes Heller and Jacques Derrida. He holds a Ph.D. in Philosophy and Theory of Architecture from Princeton University. His first book, Contra-Sexual Manifesto (forthcoming by Columbia University Press in 2015) was acclaimed by French critics as "the red book of queer theory" and translated into five languages. He is the author of Testo Junkie. Sex, Drugs and Biopolitics (The Feminist Press) and Pornotopia (Zone Books) for which she was finalist of the Anagrama Price in Spain and was awarded the Sade Price in France. He has directed numerous projects with artist, activists and thinkers with the aim to develop and explore the field of activism emerging out the mobilization against biopolitical management of the body, sex, gender and race within contemporary capitalism. Some of these projects are: Rhetorics of gender/Politics of Identity (BNV, UNIA, 2003), Postporn Marathon (MACBA, 2004), PornPunkFeminism (Arteleku, 2008), Art after Feminism (MACBA, 2008), IM/MUNE (Emmetrop, 2011), Cuir International (MNCARS, 2011), Gender Lab (Emmetrop, 2012), The Beast and The Sovereign (MACBA, 2015).
Carolyn Stack is a psychologist and psychoanalyst in private practice in Cambridge, MA. She is a co-editor of Bringing the Plague: Toward a Postmodern Psychoanalysis with S. Fairfield & L. Layton. (2002). She has published in Contemporary Psychoanalysis and Gender and Psychoanalysis: An Interdisciplinary Journal. Dr. Stack is on the faculty at the Massachusetts Institute for Psychoanalysis where she is also a training analyst and supervisor.
Jamieson Webster is a psychoanalyst in private practice in New York City. Her books include The Life and Death of Psychoanalysis (Karnac Books, 2011) and Stay, Illusion! The Hamlet Doctrine(with Simon Critchley; Pantheon, 2013). She has written for the Guardian, the New York Times, Playboy, and the Times Literary Supplement, as well as contributing clinical and theoretical articles to many psychoanalytic publications.