DESIRE, FANTASY AND THE REAL IN LACANIAN THEORY & PRACTICE
October 27, 2022 6:00 pm

-

8:00 pm

Free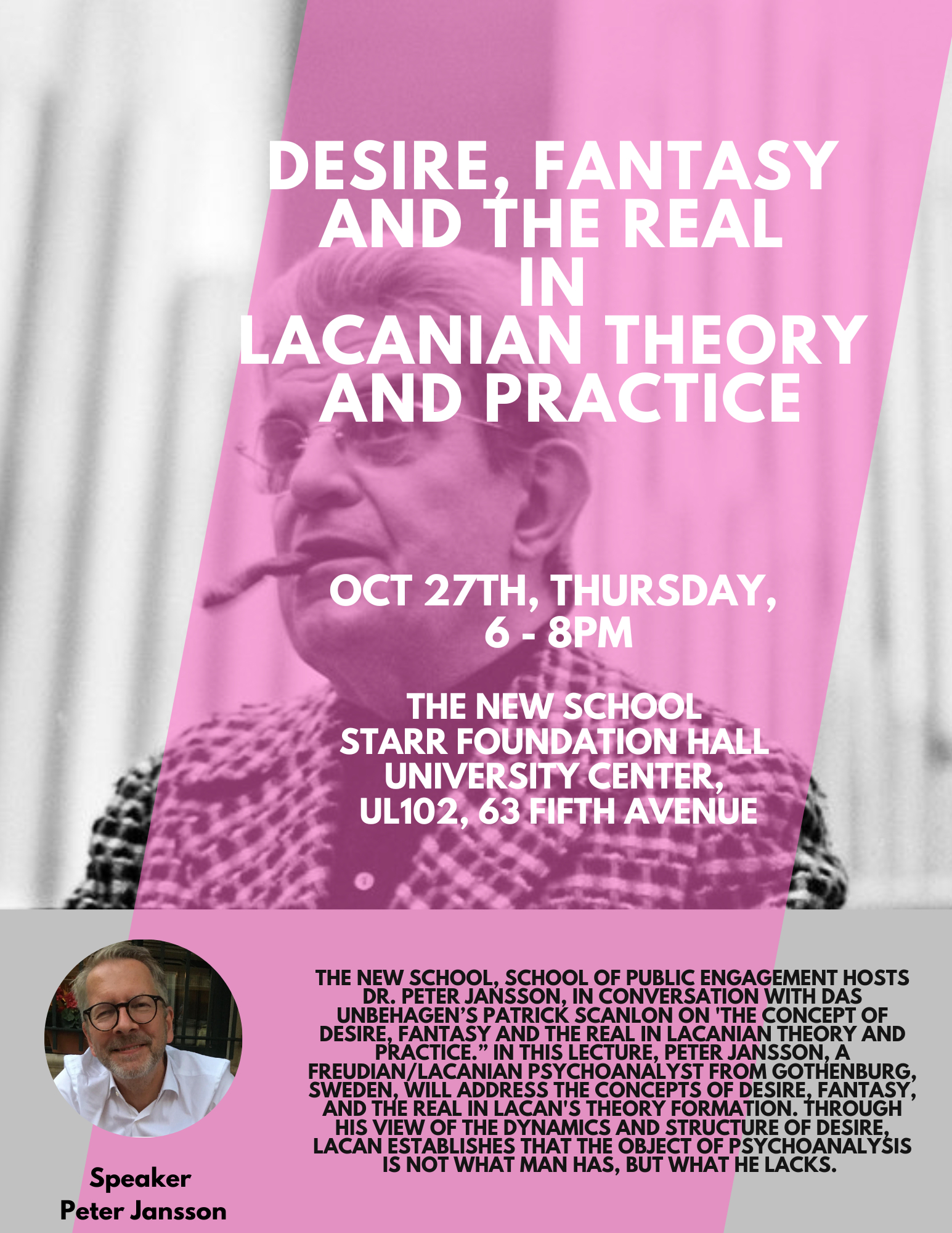 The School of Public Engagement hosts Dr. Peter Jansson in conversation with Das Unbehagen's Patrick Scanlon on 'The Concept of Desire, Fantasy and the Real in Lacanian Theory and Practice." In this lecture, Peter Jansson, a Freudian/Lacanian psychoanalyst from Gothenburg, Sweden, will address the concepts of desire, fantasy, and the real in Lacan's theory formation. Through his view of the dynamics and structure of desire, Lacan establishes that the object of psychoanalysis is not what man has, but what he lacks. This is the concept of the Real, which, based on the existential conditions of loss and lack, constitutes the gravitational point of desire. Against this background, Jansson seeks to show how Lacan, in the clinic, formulates the goal of psychoanalysis as a search for the truth of desire. The conversation will be moderated by Patrick Scanlon. This event is organized by 
Xiqiao Chen
 (NSSR, Clinical Psychology PhD student), 
Isaiah Madison
 (Lecturer, School of Public Engagement), and 
Vanessa Sinclair
 (Psychoanalyst; Founding member of Das Unbehagen).

Peter Jansson is a Freudian/Lacanian psychoanalyst in Gothenburg, Sweden, where he maintains a private practice in psychotherapy and research. Peter Jansson has experience working as a supervisor, for other psychologists, psychotherapists and psychoanalysts, private and institutional, in psychiatry, various educational programs, in ego structuring psychotherapy, crisis and trauma care (with exile problems), family home care, youth clinics. He is also a Philosopher and a writer. Jansson studied Philosophy at the University of Gothenburg and graduated with a degree in Psychology from Umeå University, Umeå, Sweden. He has participated in a forthcoming anthology (in English) devoted to psychoanalytic perspectives on the Swedish film director Ingmar Bergman. Currently, he is working on a book about Polish filmmaker Kieslowski.

Patrick Scanlon focuses his writing, performance and film on the composition of attention—those shapes and movements through which it gathers, disperses and sustains. This research, begun during an MFA in Writing and Poetics at Naropa University's Jack Kerouac School, and completed for a PHD at Columbia University, is the subject of the manuscript Fastened from the Start: Inquiry and the Poetics of Attention. His most recent work includes the film Solar Somnium: Kepler from the Cusp (16mm/Super 8mm), and the essay, "Island Earth: Bergman, Brahe and the Many Suns" from the collection, Psychoanalytic Perspectives on the Films of Ingmar Bergman: From Freud to Lacan and Beyond. V. Sinclair (Ed.) Routledge. Currently, he is a postdoctoral associate in the University Writing Program at the University of Florida.