Anni Bergman: SCREENING AND DISCUSSION OF "THE POWER OF THE RELATIONSHIP"
February 5, 2013 8:30 pm

-

10:30 pm

Free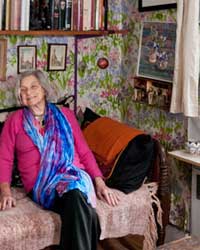 Anni Bergman was born in Vienna and immigrated to the United States in 1939. She graduated with a degree in music from the University of California and eventually settled in New York City with her husband, writer and publisher Peter Bergman, with whom she had two sons. While in California she met the psychoanalyst Christine Olden, who became a close friend and important influence. In 1959 Dr. Bergman began to work with Margaret Mahler on the observational study of the separation-individuation process. She is co-author with Margaret Mahler and Fred Pine of The Psychological Birth of the Human Infant. Following her work with Dr. Mahler, Dr. Bergman continued to practice and teach dyadic work with autistic children and their primary caretakers.Some of this work has been published in her collected paper, Ours, Yours, Mine: Mutuality and the Emergence of the Separate Self, which was written in collaboration with Maria F. Fahey.
Dr. Bergman received her PhD in clinical psychology from the City University of New York, where, as a member of the faculty, she co-founded and directed a treatment center for preschool inner-city children with severe attachment disorders. Dr. Bergman is the founder and co-director of the Anni-Bergman Parent-Infant program, a three-year program designed for psychoanalysts to study infant development, as well as therapeutic work with infants, toddlers and their primary care takers. She is also a member of the Institute for Psychoanalytic Training and Research and the International Psychoanalytic Association and Associate Professor at New York University's postdoctoral program in psychotherapy and psychoanalysis.For the last nine years Dr. Bergman has been affiliated with Dr. Beatrice Beebe in the study of children who lost their fathers in the 9/11 disaster.Her work in this project is included in a recently published book, Mothers, Infants and Young Children of September 11, 2001: A Primary Prevention Project.Dr. Bergman continues her work with autistic and psychotic children as a supervisor and consultant.
Inga Blom's Introductory Remarks
For most of us Anni Bergman needs no introduction. Her writing and research, involvement in multiple doctoral programs and institutes, frequent participation in conferences around the world, and ongoing work in various community-based activities (most recently the 9/11 project w/ Beatrice Beebe) mean that we have all likely encountered her if not in person, certainly in print, and most definitely in person.
Many of us know Anni, and know of the activities for which she is the most famous, particularly her work with Margaret Mahler which was summarized in the 1975 book The Psychological Birth of the Human Infant.  However, I think that anyone who knows her well also has the experience of always being confronted with new details of Anni's various interests (Italian lessons) and activities (yoga).  And associates.  For decades, her home on 20th street has been a place where people arrive for a few hours or a few days, sometimes for a few hours that turn into a few days.  There have been times when I've gone there to work on something, only to run into a Tony award-winning director, Australian philosopher or Italian psychoanalyst.  Anni has a way of connecting with people, connecting people with each other, and a way of connecting ideas and bodies of work that transcend categories, genres and orientations.  That certainly describes the work we have done together (which involves integrating Separation-Individuation Theory and Attachment Theory, and which has garnered a lot of eye-rolling at the institute where I currently train).
it would be impossible to summarize the details of Anni's life and career — there's so much, and guaranteed that there's a lot I don't know.  I first started working with Anni almost a decade ago, and just when I think I've understood a phase of her life and her work, new details emerge.  I have, though, selected a few highlights that I think are particularly unbehagenisch:
Anni moved from Vienna to the US in 1939.  She'd told me that she chose to come here in part because everyone else she knew was going somewhere else, in Europe and Australia, and she wanted to do something different.  Coming to the US, first to California to be an au pair for an analyst, seemed like a great adventure.  Anni completed a BA in 1943 from UCLA in music and early childhood education.  In that capacity, she studied with the composer Schoenberg, who certainly made waves in classical music.  Anni often jokes that the only royalties she gets nowadays from her publications are from her books on playing the recorder.  Not that long ago I learned that she almost didn't go to UCLA — when her admission letter arrived, she'd already been accepted by the circus, which seemed like a more interesting and lucrative prospect at a time when jobs and work were hard to come by.  I think we're all glad that she chose not to join the circus, but some of that comfort with acrobatics will surely come through in her work with Rosie (who spends a lot of time dangerously climbing the piano).
Anni completed her MA in 1963 and her PhD in 1983 at CUNY.  By that time, of course, she'd already worked with Margaret Mahler and others for years, studying child development and working with severely disturbed children and their families. She developed the tripartite model of working with these disturbed children, which we will learn about today through her work with Rosie and Rebecca.  Soon after that she also started a children's treatment center in Harlem.  Anni's development as an analyst is hard to describe. She has essentially trained everywhere — everywhere in NYC for sure, and in many parts of Europe.  She has been on faculty at IPTAR, the Freudian Society and NYU Postdoc.  Her calendar is filled with events to attend from all institutes around town.  She participates in study groups on Klein and Winnicott. She was a part of one of Fonagy's research seminars in London.  When I was telling her about the Unbehagen's recent correspondence with Christopher Bollas, of course Anni said: "Oh I was in a study group with him years ago.".  Most recently Anni has been invited to teach at the Vienna Institute in the spring.  But she doesn't call one institute home, and has spoken about feeling both a part of, and not a part of, all of these different places.  Her current program, the Anni Bergman Infant Parent Program, is it's own program with many institutional affiliations.
In the past few years Anni has written and presented on the experience of Otherness in her own life, and in the life of her patients.  She's said that it's her own Otherness that has helped her clinical work.
Anni's work embodied the spirit of Das Unbehagen long before we all got together.  I am excited to have her share a piece of that with us.