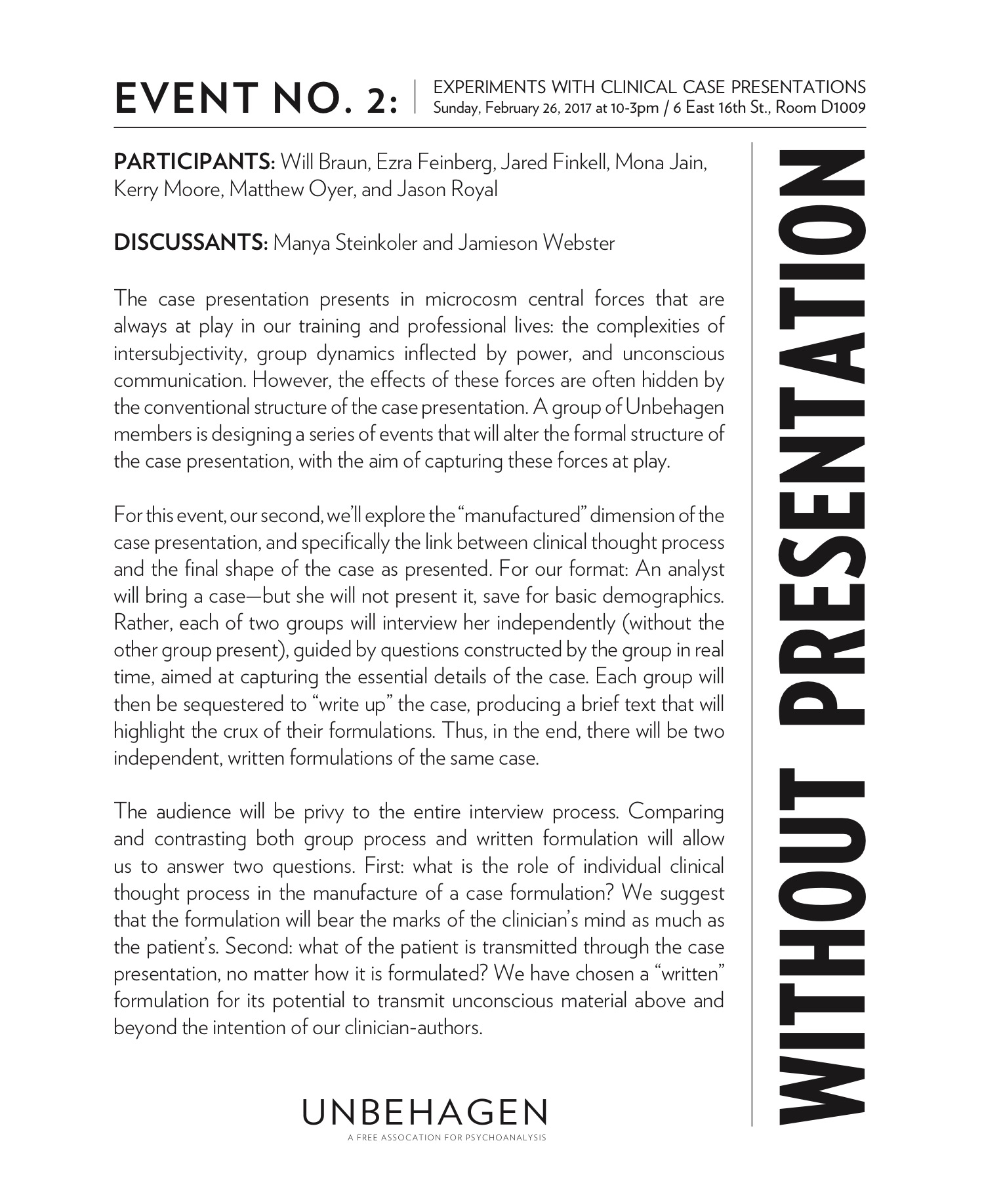 EVENT: Unbehagen's Experimental Case Presentation Event No. 2
LOCATION: 6 East 16th Street, Room D1009
DATE: Sunday, February 26, 2017
TIME: 10am-3pm
Please join us for what will be a fascinating, thought-provoking event!
DESCRIPTION: For this event, our second, we'll explore the "manufactured" dimension of the case presentation, and specifically the link between clinical thought process and the final shape of the case as presented. For our format: An analyst will bring a case—but she will not present it, save for basic demographics. Rather, each of two groups will interview her independently (without the other group present), guided by questions constructed by the group in real time, aimed at capturing the essential details of the case. Each group will then be sequestered to "write up" the case, producing a brief text that will highlight the crux of their formulations. Thus, in the end, there will be two independent, written formulations of the same case.
The audience will be privy to the entire interview process. Comparing and contrasting both group process and written formulation will allow us to answer two questions. First: what is the role of individual clinical thought process in the manufacture of a case formulation? We suggest that the formulation will bear the marks of the clinician's mind as much as the patient's. Second: what of the patient is transmitted through the case presentation, no matter how it is formulated? We have chosen a "written" formulation for its potential to transmit unconscious material above and beyond the intention of our clinician-authors.
Participants: Will Braun, Ezra Feinberg, Jared Finkell, Mona Jain, Kerry Moore, Matthew Oyer, and Jason Royal.
Discussants: Manya Steinkoler and Jamieson Webster.