UnBadiou: A Seminar on Alain Badiou with Jamieson Webster and Evan Malater – Part I – The Event and Unbehagen
March 17, 2013 3:00 pm

-

6:00 pm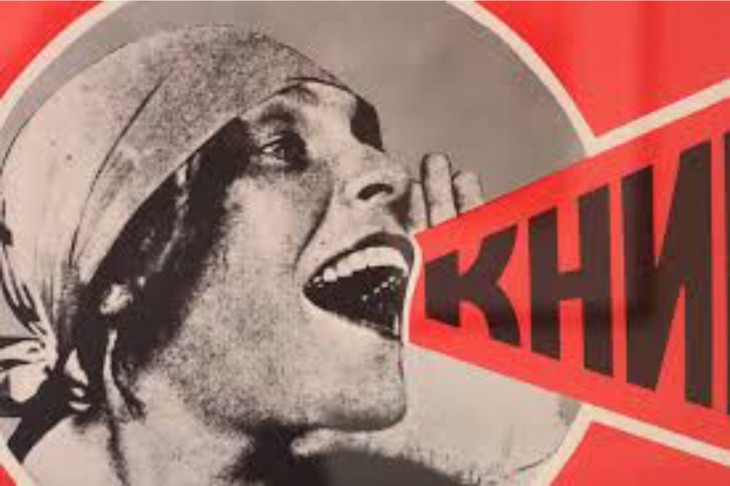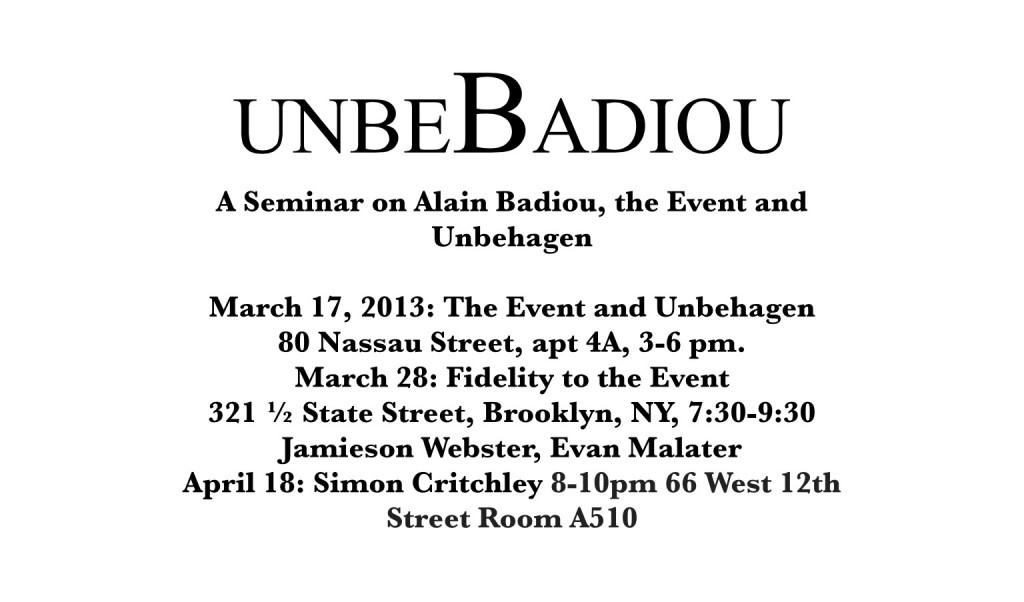 "To be faithful to an event is to move within the situation that this event has supplemented, by thinking (although all thought is a practice, a putting to the test) the situation 'according to' the event. And this, of course – since the event was excluded by all the regular laws of the situation – compels the subject to invent a new way of being and acting in the situation." Badiou, Ethics, p. 41
"Essentially, a truth is the material course traced, within the situation, by the evental supplementation. It is thus an immanent break. 'Immanent' because a truth proceeds in the situation, and nowhere else – there is no heaven of truth. 'Break' because what enables the truth-process – the event – meant nothing according to the prevailing language and established knowledge of the situation."
Badiou, Ethics, pp. 42-43.
What is the event of Unbehagen? How can an encounter with Alain Badiou, the philosopher of the New, of the Event, help us to think and name what is coming into being under the name of Unbehagen? For our seminar, we will read two key texts of Badiou, Ethics and St. Paul: The Foundations of Universalism, along with a few secondary sources. Our aim will be to apply Badiou's thinking on the Event to Unbehagen, to questions of the institutionalization of psychoanalysis, and to the practice of being an analyst more generally. According to Badiou's model this would mean a consideration of what it is to create something new in psychoanalysis today and to maintain fidelity to this aim.
Reading
Badiou, A. (2002). Ethics: An Essay on the Understanding of Evil (Peter Hallward, trans.). London: Verso (original work published in 1993).
Badiou, A. (2003b). Saint Paul: The Foundation of Universalism (Ray Brassier, trans.). Stanford: Stanford University Press (original work published in 1997).
Critchley, S. (2007) Infinitely Demanding: Ethics of Commitment, Politics of Resistance New York: Verso.
Hallward, P. (2003) Badiou: A Subject to Truth Minneapolis: University of Minnesota Press
Supplementary Reading
Badiou, A. (2005) Interview with Alain Badiou The Ashville Global Review http://www.lacan.com/badash.htm
Badiou, A. (2012) Introduction to the Philosophical Concept of Change (Video Lecture) European Graduate School https://www.youtube.com/watch?v=eBxf_hncrN8
Badiou, A. (1999). Manifesto for Philosophy (Norman Madarasz, trans.). Albany, NY: SUNY (original work published in 1989).
Lacan, J. (2007) Seminar XVII: The Other Side of Psychoanalysis New York: Norton
Norris, C. (2009) Badiou's Being and Event: A Readers Guide London: Continuum Books
Zizek, S. (2007) Philosophy: Spinoza, Kant, Hegel and… Badiou! http://www.lacan.com/zizphilosophy3.htm
DVD (2008): Democracy and Disappointment: On the Politics of Resistance (Alain Badiou and Simon Critchley in Conversation) Philadelphia: Slought Books.