Trans*Unbehagen: What is Trans*Psychoanalysis?
May 2, 2016 8:00 pm

-

10:00 pm

Free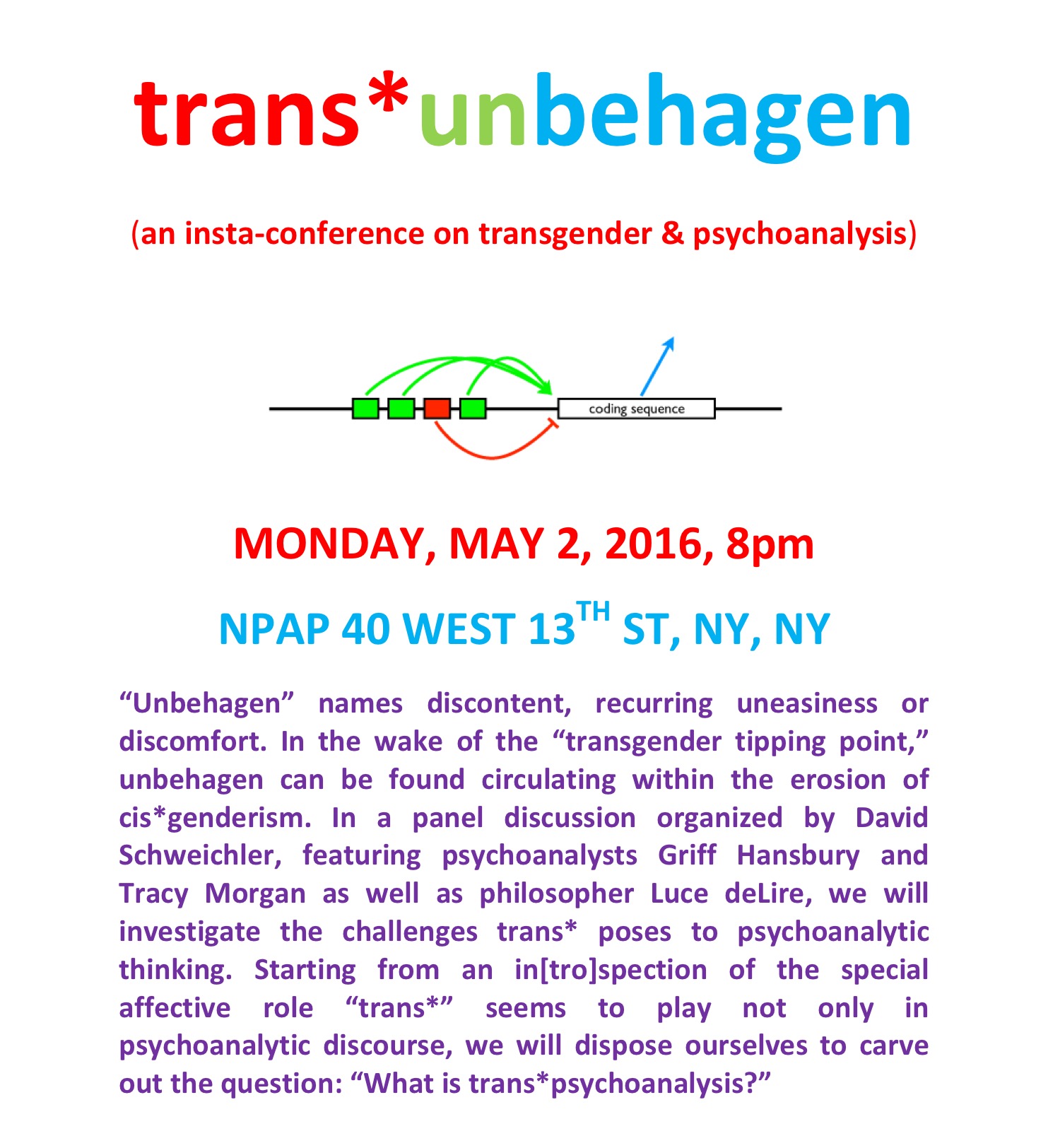 Could that even be a thing? Besides emotional sensitivities and political adjustments, "trans*" and "psychoanalysis" act as natural allies: While trauma and desire are trans*gender's looming shadows, psychoanalysis may be troubled by in/capacitation/s of "transitioning" in its most fundamental categories: "sex," "sanity," "cure," "castration" as it transitions to something more fluid, beyond the gender binary. Likewise, trans*ness engages some palpable restiveness to whatever is left of "queerness." To map these spaces will be on our itinerary…
Emerging spontaneously from conversations on the Unbehagen Saloon, this event intends to spark wider discussions concerning trans*psychoanalysis beyond legalism (bathroom madness), education ("get the terms straight!") and cocky pathologization ("you must read these seven white, straight, cis-gendered men before speaking your own mind!"). For beyond being the next neoliberal market ground, supplier of psychoanalytic clientele and object of study to the master discourse, "trans*" poses a question, a promise, a possibility –
You are cordially invited to explore what that might (have – already? – ) become. And if that does not convince you: We will have wine and cookies.
Luce deLire connotes a cloud of identities, posing in different time zones between the lines as a simulacrum, a philosopher, time traveller, organizer, astronaut, curator, makeup amateur, publisher and collector of your poetic accidents.
Griffin Hansbury, MA, LCSW-R is a frequent presenter on transgender issues. His writing on the subject has appeared in several journals, including Psychoanalytic Dialogues and Studies in Gender and Sexuality. In 2015, he received the Ralph Roughton Award from the American Psychoanalytic Association. He is in private practice in New York City.
Tracy D. Morgan is a psychoanalyst in private practice, Founding Editor of the award-winning podcast, New Books in Psychoanalysis, an old Women's Studies Major and a failed lesbian.
Planning Committee: Luce deLire, Griffin Hansbury, Tracy Morgan, David Schweichler