RADICAL JUNGIAN ANALYSIS: THE FREUD/JUNG SPLIT
April 27, 2018 6:30 pm

-

9:30 pm

Free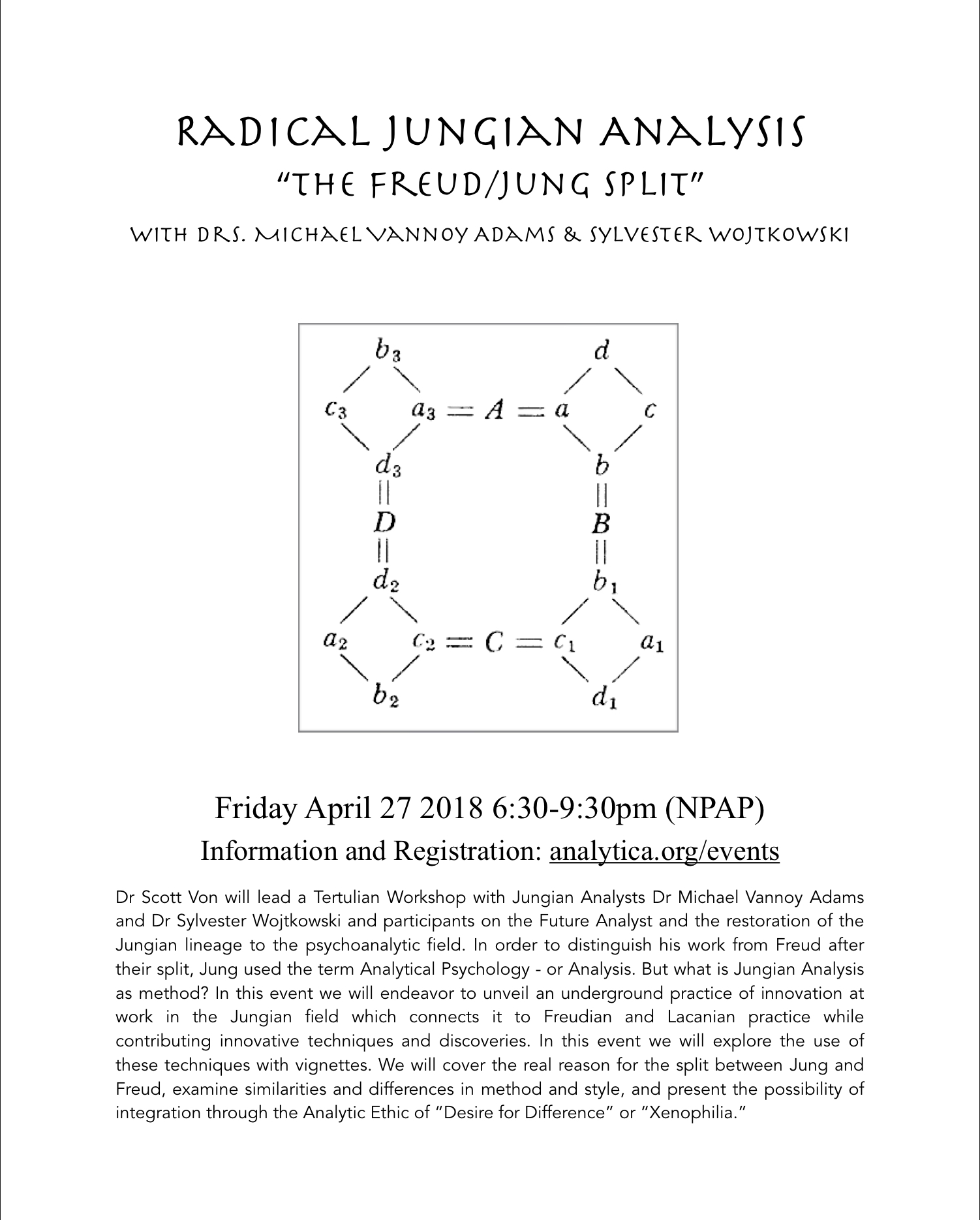 The Future Analyst: Analytica Seminar 2017-18 – Dr Scott Von + Invited Guests
NPAP 40 W 13th NY (And By Virtual Attendance Internationally) – Free and Open
In this Seminar we take up Lacan's late work on "Psychoanalysis in Extension" in which he tries to extend analysis from the clinic to the school and the social band – thus linking Freud's three impossible professions of psychoanalysis, education, and politics. We will examine crucial aspects of Lacan's Freudian School and how it gave rise to a multiplicity of other schools in its wake which carry on the transmission of a particular approach to psychoanalysis essential to our times – and the unfulfilled promise of a clinic of the Future Analyst
Psychoanalytic method and ethics is anchored by the "Desire of the Analyst": an approach to the subject that transforms the three impossible professions of cure, transmission and polis equally with a view toward the new, different, and unique. This ethic of "Xenophilia" has profound implications for the future of the social band.
We will cover the following topics:
A. The three impossible professions of analysis in extension
1. To cure: analysis contra therapy
2. To teach: transmission contra education
3. To govern: autopoesis contra governance
Michael Vannoy Adams is a Jungian psychoanalyst in New York.  He is the author of The Multicultural Imagination, The Mythological Unconscious, The Fantasy Principle, and For Love of the Imagination. He is a clinical associate professor at the NYU Postdoctoral Program, as well as a faculty member at the Object Relations Institute and the Jungian Psychoanalytic Association. He is former professor and director of the New School Psychoanalytic Studies Program.
Sylvester Wojtkowski is a Jungian psychoanalyst and psychologist in New York. He is a founding member, supervisor, and faculty of the Jungian Psychoanalytic Association, faculty at the C G Jung Foundation for Analytical Psychology, and former lecturer at Texas University. He has published and presented internationally on subjects of Psychoanalysis and Art.
Scott Von is a psychoanalyst and physician and director of the New Clinic for Integral Medicine & Psychiatry in New York. He is director of Analytica and Trustee of PLACE Psychoanalytic Institutes, and an analyst member of Après-Coup and Convergencia Lacanian Psychoanalytic Associations. In addition to the above, he has taught and supervised as a professor at NYU, CUNY, Pacific College and ACTCM Medical Schools. He is also a poet and artist who performs and exhibits internationally on his works Autopoesis and Schizoanalysis.