A/cephalic Discontents: Session I
April 2, 2016 2:00 pm

-

4:00 pm

Free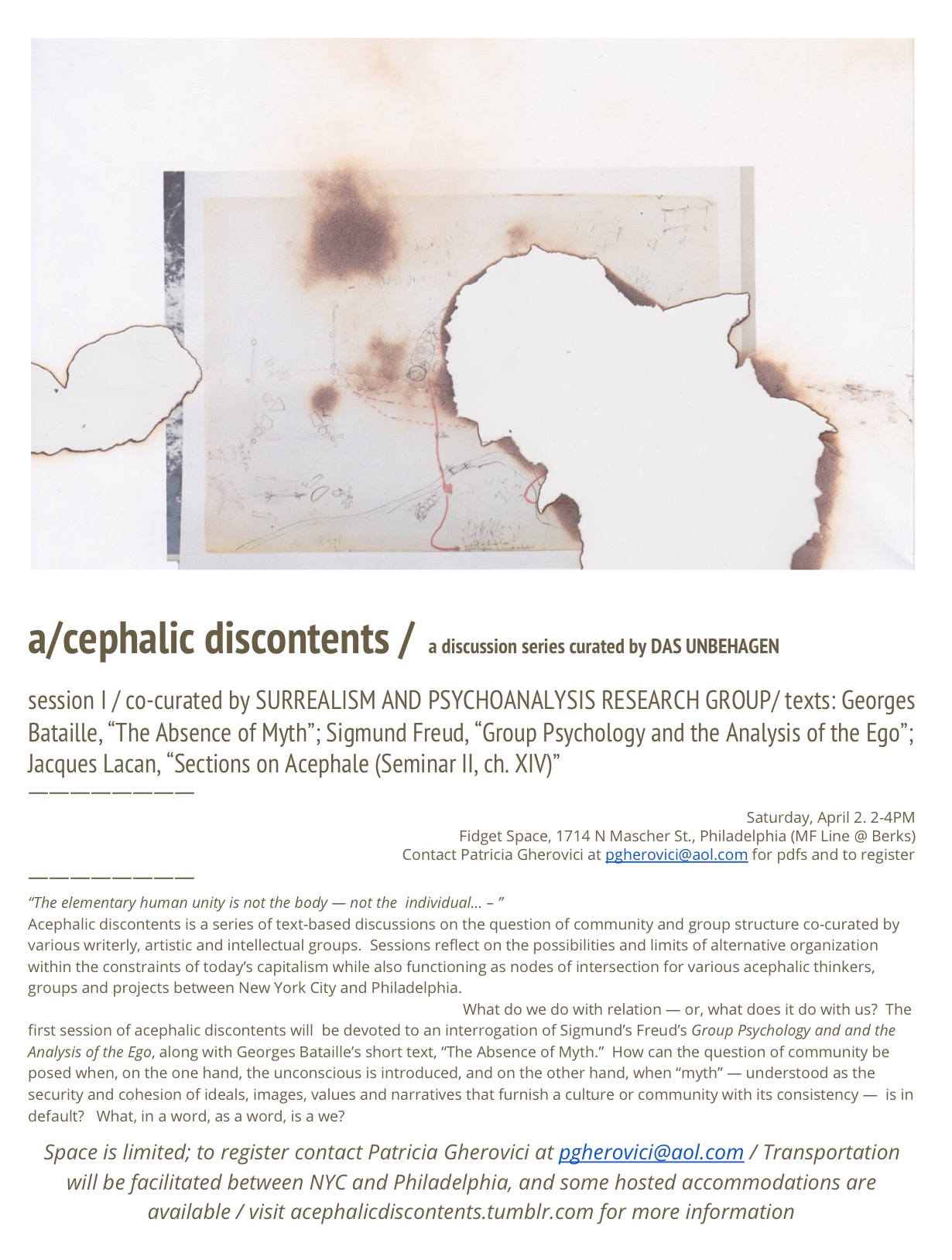 a/cephalic discontents is a series of discursive experiments reflecting on community and group structures, leading up to a conference in March 2017. Each discussion is based on a text or a handful of texts that all participants are asked to read. Each session is also co-curated by a different Philadelphia or NYC group who will open, frame and inflect the session in a creative manner particular to their concerns and engagements.
Everyone is welcome to participate in one, some, or all of these discussions; the constituency of these sessions will be ferociously heterogeneous. Space is limited, and since we are trying to cultivate an atmosphere of participation, engagement and discussion, we ask that you please register beforehand.
Please consider this an opportunity to reflect on the directions that Das Unbehagen has taken and may take, as well as to search out parallels in other acephalic and alternative writerly, intellectual and artistic communities.
As part of the project involves opening more channels of communication between NYC and Philadelphia and various groups based in these cities, accommodations and facilitations for travel are being organized.  Please let us know when you register if you are interested in carpooling or in a place to stay.  All sessions are scheduled for
Saturday
afternoons in order to make this travel more possible. Philadelphia desires more Das Unbehagen.
This first session of a/cephalic discontents, to be co-hosted with <fidget> in Philadelphia on April 2nd, will be devoted to an interrogation of Sigmund Freud's "Group Psychology and the Analysis of the Ego," Georges Bataille's "The Absence of Myth," and selections on acephale from Jacques Lacan's  Seminar II (1954-955), "The Ego in Freud's Theory and in the Technique of Psychoanalysis," Chapter XIV, "The Dream of Irma's Injection." What do we do with relation — or, what does it do with us? How must the question of community be posed when, on the one hand, the unconscious is introduced, and on the other hand, when "myth" — understood as the security and cohesion of ideals, images, values and narratives that furnish a culture or a community with its consistency — is in default? What, in a word, as a word, is a we?